Where do I bring donations?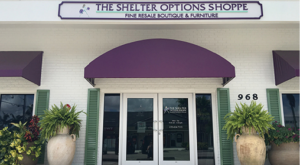 All donations including furniture must be dropped off at The Shelter Options Shoppe. Items should be brought to the warehouse doors at the back of the building. Please head South on 10th Street North, taking a right into the alley between the hobby shop and garden district. Turn right into the chain link gate entrance and enter the building through the large double doors. Someone will assist you and provide your tax donation paperwork.
968 Second Avenue North (on the Southeast corner of 10th St.)
Naples, FL, 34102
239-434-7115
CLICK HERE for map
Drop-Off Map
To schedule a Pickup:
To donate furniture items that require a pickup, call 239.434.7115 or email Options Manager Paul Kallenberg and provide the following information:
• Name, address and phone number
• List of items, including approximate age and condition and pictures if possible
We will contact you as soon as possible regarding a pick-up.
We invite you to help create peaceful homes and communities by donating your well-maintained, used car to Options Thrift Shoppe!
You can be assured that revenue generated through your donations and purchases fully support The Shelter. For more information, call 239.434.7115 or email Options Manager Paul Kallenberg
---